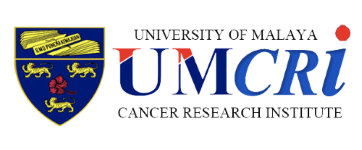 University Malaya Cancer Research Institute (UMCRI)

was established in 2010 due to increment in the numbers of research related to cancer in University Malaya.

MISION

To conquer cancer through CARE

Care - Providing quality standard of care and innovative treatments to cancer patients

Advocate - Advocate for quality cancer care

Research - Research impactful research through clinical trials, clinical epidemiology, health system research, prognostic and predictive biomarker research and nature inspired drug discovery.

Education - Educate healthcare providers, cancer patients and community on early detection, diagnosis and treatments.

VISION

To be an internationally renowned cancer institute through innovative

patient-centered care, translational research and

education-empowered community.

OBJECTIVES

1. To provide a conducive ecosystem to achieve innovative research that improves patient care, through networking with local and international institutions and industries.

2. To facilitate collaboration between clinicians, scientists and community in prevention, early detection, cancer therapy and survivorship.

3. To translate research findings to policy change to improve cancer control in Malaysia.

4. To develop educational programs for health care providers and the community.

5. To empower community through advocacy in cancer prevention and survivorship.